ORIGINAL ARTWORK     COMMISSIONS     MURALS
As an artist, my goal is to bring a sense of beauty and awe for nature's simple treasures with unexpected elements.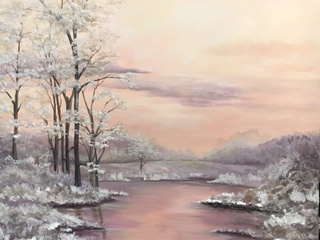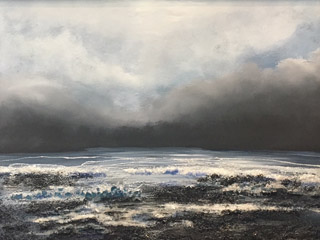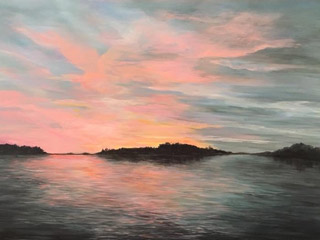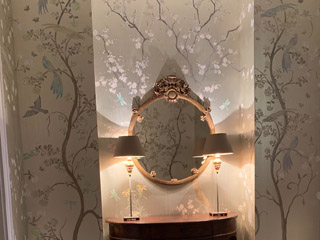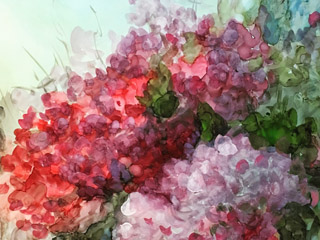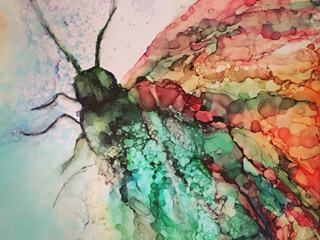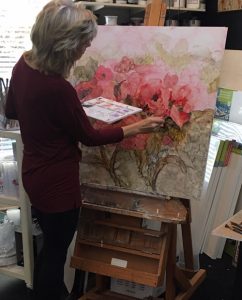 ​Gina Wolfrum is an award winning, mixed-media artist who returned to her artistic roots after leaving the corporate world and relocating to a farm in rural Ohio. She instinctively transitioned back to the fine arts training she received in her youth when an interior designer pulled her into the world of decorative art and murals. Wolfrum studied in studios around the country to develop her use of color, texture and natural elements. Her decorative artwork has been featured in books, trade journals, television and various websites.
Designer and client commissions provided a welcome change of pace and an impetus to further develop her approach. Intensely inspired by nature, most of her paintings are a form of landscape or nature setting.  She often incorporates unexpected elements like gemstones, crystals, and glass.  She encountered the greatest breakthrough in creativity when she began using these textural elements.  The juxtaposition of paint and stony textures provides her with endless creative energy.  Amethyst, rose quartz, tourmaline, and mica are of few of her favorites. Her style walks the line between realism and impressionism and her work resonates a refined passion for beauty in design, resulting in art that is timeless in spirit, luxurious in appeal, a feast for the eyes and soul. The construction of a large studio on the farm allows her to work on multiple paintings at a time, to paint 'when inspired' and to 'paint big' as she prefers to create on large canvases.
Her works using semiprecious stones and crystals have received "Best of Show" and "People's Choice" awards as well as monetary awards and Honorable mention recognitions. Two successful solo shows in 2021 were indicators that her work continues to gain popularity with collectors and gallery patrons.
Gina lives with her husband and a very large dog in Northwest Ohio on a quiet farm surrounded by flower beds and bird feeders.
WHAT MY CLIENTS ARE SAYING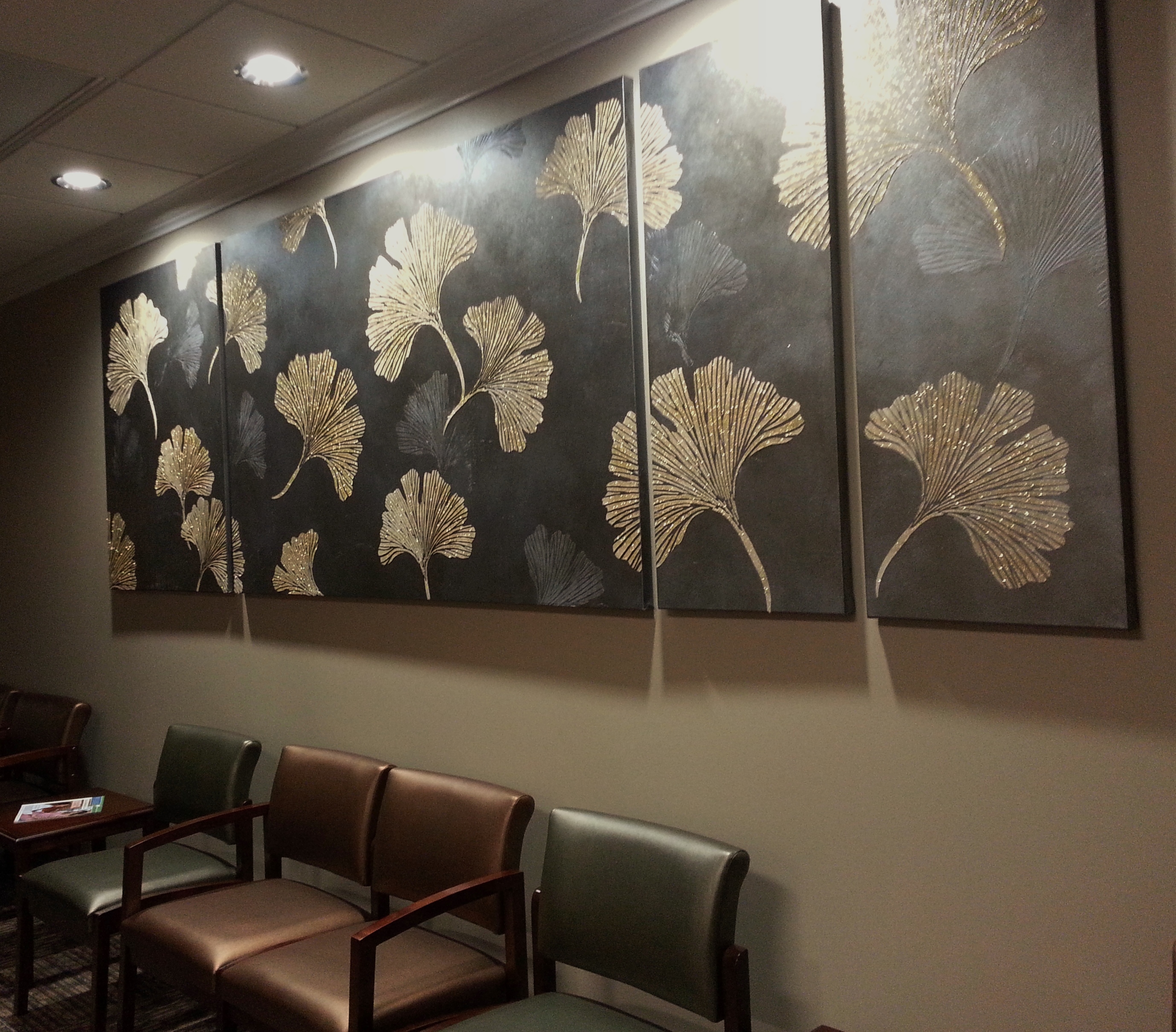 I have had nothing but wonderful success with Gina Wolfrum. As an interior designer working with Gina for 15 years I've commissioned several murals, decorative wall finishes and art pieces and always been thrilled with the results! She is an extremely talented artist always improving techniques and wanting to learn more. I have always appreciated her input and ideas on any projects we've worked on together.  She listened to my thoughts, added her own and continuously exceeded my expectations with her finished projects. I have no reservations in recommending her for any commissioned art works.
Thank you, Beth Moore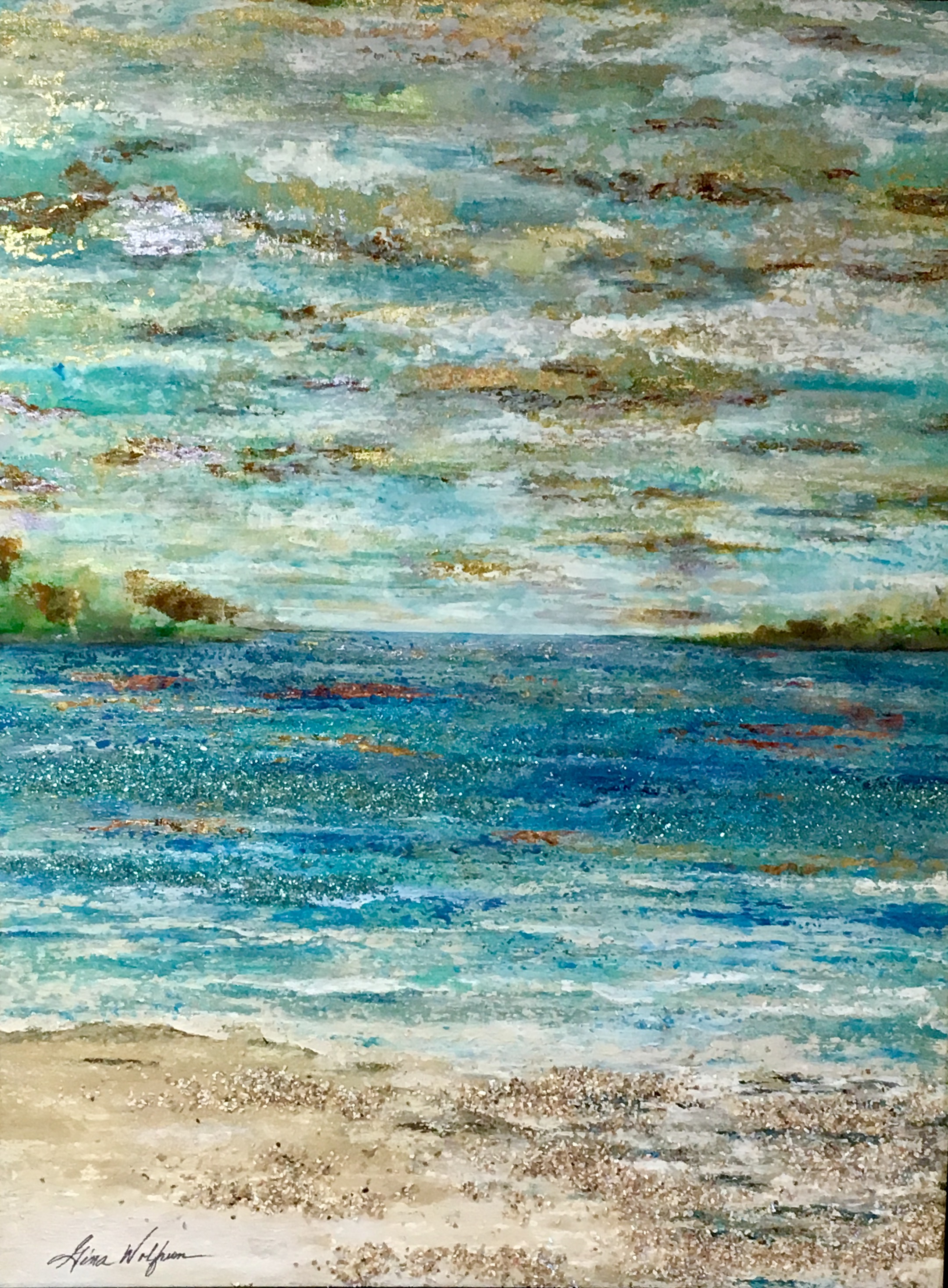 We are so in love with our painting you did! The texture, depth, and hidden gold shimmers are amazing!  You can get lost in it. Such a fabulous addition to our home. It shimmers all day from different angles – so gorgeous – we are soooooo happy.  The neighbors have loved it too… Thank you
Linda Bessey, Florida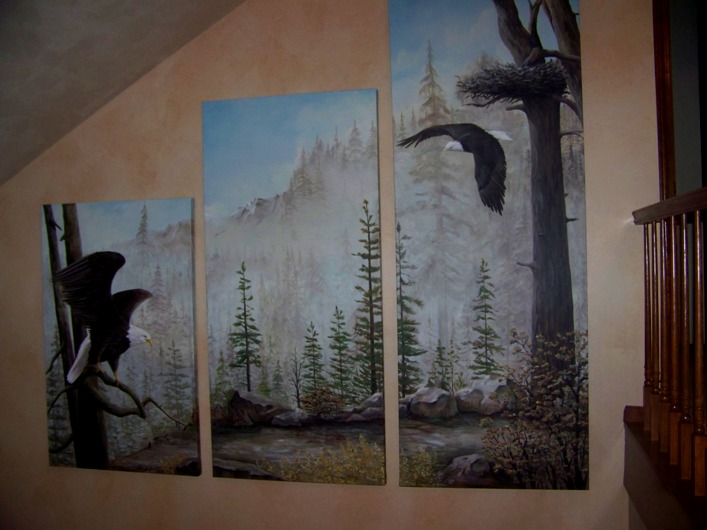 I have had the privilege of owning several custom canvas creations by Gina Wolfrum. The first one is a series of three large canvas' that create a wildlife scene. Gina was able to use some photographs we had from a special vacation to then create her own version of what we showed her. The results were FANTASTIC!  These proudly graced a cathedral wall and routinely received compliments from all our guests!!!  I was thrilled to tell everyone who had created the gorgeous paintings. I have original artwork that is unique and special! Perfect! Gina always adds her special touch to every piece, making it a treasured one. Gina is great about getting a sense of what her client wants and then adds her magic to the canvas. Gina Wolfrum is professional, creative,honest and a joy to work with. I have worked with Gina, for over 12 years and am currently in the creative phases of the next canvas. If you are fortunate enough to own a Gina Wolfrum original canvas, considered yourself blessed!
Lynn Pagel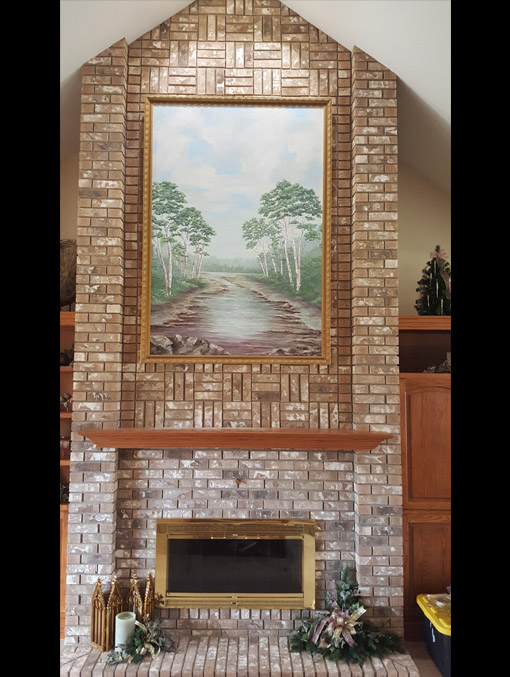 My husband and I requested Gina to create a painting for our fireplace.  She graciously said, "yes"  Our fireplace brick is floor to ceiling.  Gina listened to our wishes for the painting, offered thoughts and suggestions that were so very helpful!  Needless to say, we are more than pleased!   We feel that a piece of her heart, along with her wonderful artistry, is in our lovely painting!  We would recommend her artwork to ANYONE!  If there were star ratings, we would give her 5-stars!
Dr. & Mrs. Butch Bell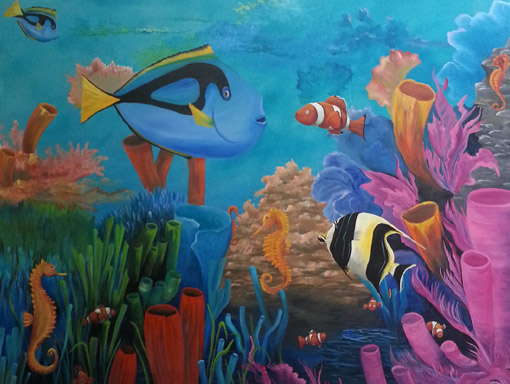 I had a wonderful experience working with Elegant Finishes by Gina. I was especially impressed with the canvas work I had done for my home. Gina took my vision to create something special for my grandchildren and brought it to life.  The work is so realistic it almost pops off the wall. The children love that she personalized each one with their name. The best part about these beautiful canvases is that they can be removed from the wall if we would decide to move or if we just want an update. I would highly recommend Gina for her canvas work and I have done so to all my family and friends.
Lou Ann Waldron
Subscribe for Artist Updates, News & Discounts
Subscribe for Artist Updates, News & Discounts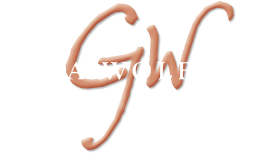 07601 State Route 249
Hicksville. OH 43526
419-769-8856
ginawolfrum@gmail.com