ARTIST BIO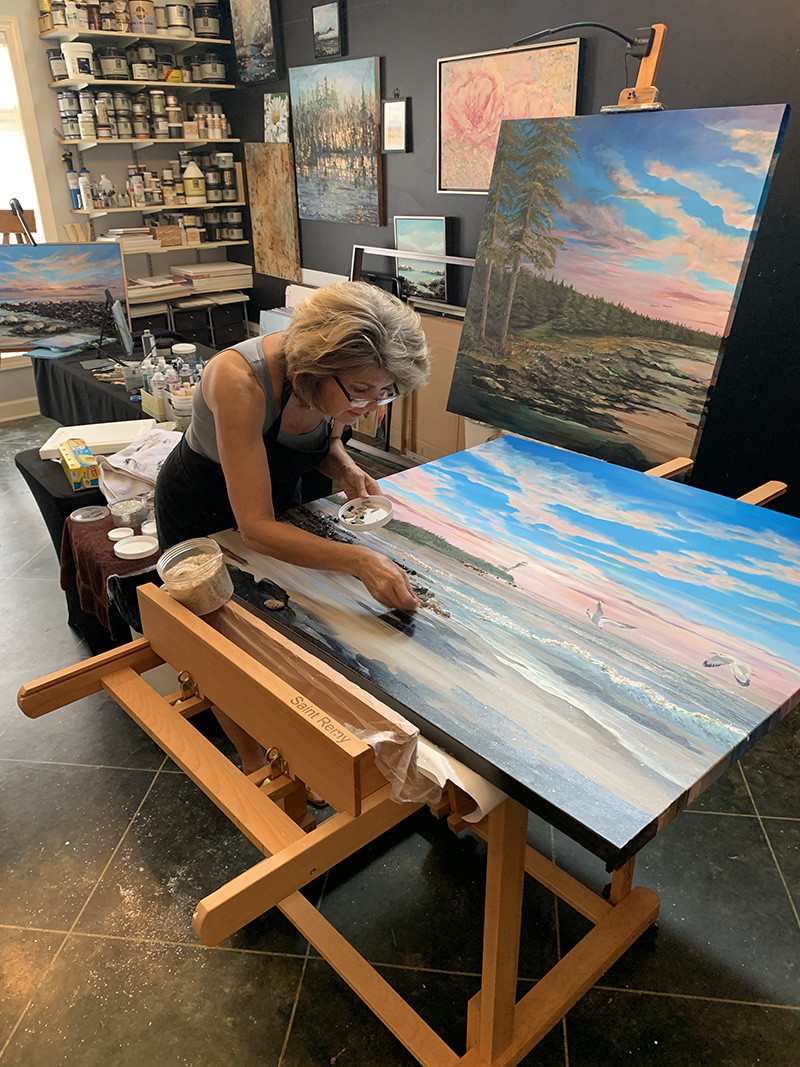 ​Gina Wolfrum is an award winning, mixed-media artist who returned to her artistic roots after leaving the corporate world and relocating to a farm in rural Ohio. She instinctively transitioned back to the fine arts training she received in her youth when an interior designer pulled her into the world of decorative art and murals. Wolfrum studied in studios around the country to develop her use of color, texture and natural elements. Her decorative artwork has been featured in books, trade journals, television and various websites.
Designer and client commissions provided a welcome change of pace and an impetus to further develop her approach. Intensely inspired by nature, most of her paintings are a form of landscape or nature setting.  She often incorporates unexpected elements like gemstones, crystals, and glass.  She encountered the greatest breakthrough in creativity when she began using these textural elements.  The juxtaposition of paint and stony textures provides her with endless creative energy.  Amethyst, rose quartz, tourmaline, and mica are of few of her favorites. Her style walks the line between realism and impressionism and her work resonates a refined passion for beauty in design, resulting in art that is timeless in spirit, luxurious in appeal, a feast for the eyes and soul. The construction of a large studio on the farm allows her to work on multiple paintings at a time, to paint 'when inspired' and to 'paint big' as she prefers to create on large canvases.
Her works using semiprecious stones and crystals have received "Best of Show" and "People's Choice" awards as well as monetary awards and Honorable mention recognitions. Two successful solo shows in 2021 were indicators that her work continues to gain popularity with collectors and gallery patrons.
Gina lives with her husband and a very large dog in Northwest Ohio on a quiet farm surrounded by flower beds and bird feeders.