Aspen or White Birch? These are Aspen – it's all about the bark.
White Birch are identified by the presence of a paper-like peeling bark and Aspen contains multiple black bumpy patches. Aspen bark is smooth and a gray-white on the immature trees, crisscrossed with black bands. The bark turns a darker hue of gray at the bottom portion of the trunk, with deep furrows, on the older bigtooth aspens.  Aspens have large round leaves, grow straight and tall, and form large stands in many sections of the areas in which they grow, throughout much of the US. The Great Lakes area is a favorite. (I've pulled this info from the Sciencing.com page.)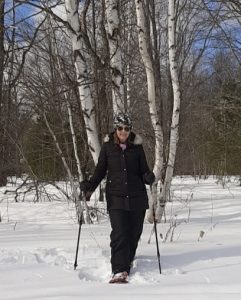 We have friends who graciously host us at their vacation home in northern Michigan. I was captivated with the beauty of the Aspen trees during a snow-shoe-cross-country-girlfriend-outing a while back. I took many pictures as the group of girls made our way cross country, laughing at ourselves, and enjoying the simple beauty of nature.  This is my tribute to the beauty of the Aspen, albeit in Fall rather than Winter.
As a part of the Gemstone Series the Autumn Aspen are lining the banks of a northern Michigan creek bed that sparkles as the water tumbles over blue Kyanite, obsidian and jasper. I've added crushed glass bits for the sparkling water and mica and dragons blood along the banks of the creek. I often use gemstones that match the mood and feel of the painting, or what I'm hoping to convey. Obsidian is considered a strongly protective stone, many feel Obsidian forms a shield against negativity and that it draws out mental stress and tension. Blue Kyanite encourages communication and self-expression. It cuts through fears and blockages, helping to speak one's truth. I almost always use mica in my gemstone series – no doubt in part to mica being known for its shimmering, reflective properties, this gemstone is believed to help individuals reflect on individual qualities. I'm a lover of nature and being outdoors, hence the many landscape and seascape paintings.
This large stretched canvas measures 48×48″ and is sure to add color and warmth… and interest (the rocks do that) to your room. Scheduled to arrive at the Hayley Gallery (Columbus, Ohio) in mid-August, it's in the studio until then. Contact me to view in person.
Possibly my favorite tree, what's yours?
Gina